About Susan Winter Ward



Susan Winter Ward is an internationally recognized certified yoga instructor, author, and award-winning video producer. She is the creator of Yoga for the Young at Heart™, a leading publisher of yoga exercise videos for boomers, seniors and beginners of all ages.

Susan's joy is to bring yoga to those who wouldn't otherwise think they could do it. "If you're breathing, you can do yoga," says Susan. Susan is committed to making yoga adaptable to all levels of ability so that "every body" can enjoy the benefits of a yoga practice. She is an inspiration to the young and the not-as-young. Yoga for the Young at Heart videos are used in elementary schools and corporate wellness programs, as well as by boomers and seniors who respond to her insistence that "Yoga shouldn't hurt. It should feel like a good morning stretch!"

Susan's goal is to change the traditional view of aging from the expectation of decrepitude to one of healthy, dynamic, and creative in your 50s, 60s and beyond.

Ten years of scoliosis and back pain led Susan to begin practicing yoga in 1990 at White Lotus Foundation in Santa Barbara, California. She was so impressed with the relief she experienced that she wanted to share it with her mother and other beginners. She became a teacher so she could share the blessings of yoga as a trained and experienced professional.





As a real estate developer/yoga teacher, she is often asked what the connection is for this strange blend of passions. Susan says, "I love building beautiful places for people to live on the outside; yoga helps people to build beautiful places to live on the inside. I think it's a perfect balance."

Teaching both seniors and younger beginners, Susan has developed a gentle, encouraging and inspirational teaching style. The integral foundations for Susan's teaching are the grace and strength of the vinyasa-style White Lotus Flow Series and the powerful influence of John Friend's heart-centered Anusara Yoga, Anusara Yoga's principles of alignment and the concept of honoring the body's innate intelligence. Listening deeply within, respecting the body's limits and moving through a yoga practice with sensitivity and self-caring are the basis of Susan's approach.

All of Susan's inspiring Yoga for the Young at Heart™ programs are developed especially for beginners, boomer and seniors. Her programs offer gentle, accessible and effective yoga for those who are stepping onto the path toward achieving state of body/mind fitness, vitality, and a sense of peace and well being.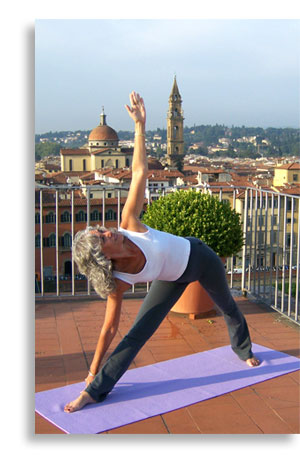 In addition to her own yoga classes, Susan teaches at retreat workshops and speaks at conferences including NICABM (National Institute for the Clinical Application of Behavioral Medicine), Southwest Yoga Conference, Whole Life Expo and numerous other U.S. events. Internationally, she has taught or spoken at Inner Voyage cruises and events, The Message Company Conferences on Science and Consciousness, and at Innate Intelligence (Network Chiropractic) Transformational Gate Intensives in Sicily, Lago di Como, Italy.

Susan has also served on the teaching staff and Board of Directors of the American Yoga College and on the teaching faculty of Deepak Chopra's website, MyPotential.com.

Susan has appeared on the cover of Yoga Journal and other national publications. She has authored numerous ARTICLES, and has been featured in and written articles for a variety of national magazines and newspapers. Susan is a sought-after guest on TELEVISION and radio talk shows.

Susan is the proud mother of two daughters and four precious grandchildren. When she is not traveling, Susan lives in Colorado where she is inspired and soul-fed by the pristine beauty and peace of the San Juan Wilderness.


A MESSAGE FROM SUSAN:
My teacher, Tracey Rich, of White Lotus Foundation, says it the best, and this is why I teach....

"As Yoga speaks to you, eventually there comes that deep desire to give back; to share that which has so inspired and transformed your life that what overflows from you, in your own unique way, can be used to ignite that spark in others. We teach because we care, because we are excited and inspired, because our desire to open the door for others is an innate wish and a natural inclination. We teach to learn more about ourselves and because, we feel ourselves being quietly drawn by the deeper pull of what we truly love."