Chair Yoga for People with Limited Mobility


Mobility issues?
Recovering from injury or surgery?


Build strength and flexibility regardless of physical condition. For anyone with limited ambulatory ability, Sitting Fit Anytime™ offers excellent guidance to improve health and vitality with chair yoga, also known as seated yoga.


Yoga for the Young at Heart was honored to have had Sitting Fit Anytime featured by by Dr. Andrew Weil, in Self Healing Magazine, as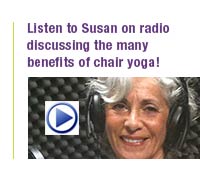 an example of effective seated yoga.

Sitting Fit Anytime introduces you to breathing, stretching, and strengthening poses that gently bring your body to new levels of fitness, increasing circulation and energizing the body to assist in healing. Even those confined to bed can benefit from the deep and controlled breathing instruction offered in this program. Deep breathing strengthens the respiratory system, cleanses and oxygenates the body, and brings a sense of deep relaxation.

---
Click HERE to order from Amazon.
---
---


Session Index
(May be used individually or in sequence)

Total running time: 43 minutes



| | | |
| --- | --- | --- |
| Introduction | by Susan Winter Ward | 1:13 minutes |
| Session 1 | Breathing | 3:10 minutes |
| Session 2 | Head, Neck and Shoulders | 6:13 minutes |
| Session 3 | Hands and Wrists | 7:18 minutes |
| Session 4 | Arms and Upper Back | 6:25 minutes |
| Session 5 | Hips and Lower Back | 7:32 minutes |
| Session 6 | Hamstrings and Forward Bends | 5:09 minutes |
| Session 7 | Abdominals | 3:43 minutes |
| Session 8 | Feet | 1:54 minutes |
| Session 9 | Meditation | 2:26 minutes |
---

With your physician's approval, you will benefit from Susan's adaptation of yogic breathing and gentle seated poses. Seated yoga can build your strength and flexibility, and can provide you with the opportunity to progress to more challenging poses.

For example, you can increase your upper body range of motion with arm raises to strengthen the upper body, boost circulation, and stretch the intercostal, shoulder, arm and hand muscles. Upper body twists hydrate the spinal discs, increase flexibility, and can help to cleanse the body's organs.

Note: If you have any physical impairments or limitations, please be sure to check with your physician before using this or any of Susan's programs.




Success Story

I am writing to you because I have just discovered your yoga videos for individuals with physical challenges, specifically the chair yoga videos. I am very excited about this because I believe it would be very helpful for the children I am working with.

Currently, I am working as a pediatric physical therapist in a New York City public school, with children who have multiple handicaps. Many of the children I work with have cerebral palsy, impairments secondary to stroke, Down's Syndrome, spina bifida, mental retardation, autism, and other neurological diseases.

I implemented a yoga program more than three years ago. The popularity of the program has grown immensely. Your videos are very needed and would be excellent for a home exercise program for many of the children I am working with, especially the children confined to wheelchairs. In addition, it would be a great resource for therapists to incorporate into their therapy sessions. I will definitely put it on the resource list in the manual for my workshop.

Thank you for putting together such beautiful and pioneering videos.

--- Martha Gold, Pediatric Therapist, Astoria, NY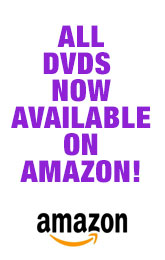 "...contains all the little things you need to do to keep yourself healthy and vital at any stage of your life. Take the time to treat yourself to the gems in this book by Susan Winter Ward."

--- Rodney Yee, Author, 'Yoga: The Poetry of the Body'


Click here to learn what others say about our products.