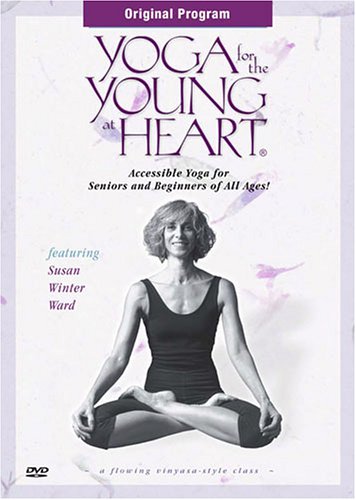 Yoga for the Young at Heart
Basic Series 1
The Video that Started it All!
"If you're breathing, you can do yoga" says Susan Winter Ward, who encourages us to recognize that regardless of our level of fitness, we can begin a yoga practice from our own unique starting point. Self awareness and acceptance are integral to this gentle instructional program for beginners of all ages.
Amazon Rental 1.99 or Buy 9.95
Buy Now
The focus of
Yoga for the Young at Heart
is honoring the "beginner's mind," gently introducing the body/mind to the yoga experience
. Through yoga, you will improve your health, strength, flexibility and a sense of inner serenity.
Especially for beginners over 50, these gentle stretching exercises compose a "flowing yoga" class, linking the poses together in a continuous sequence that allows the student to access stretches gently and naturally. You will join Susan in a senior yoga class with four students ranging in age from 45 to 80 years young. Just under one hour in length, the pace is easy. The "vinyasa" style of yoga that inspires Susan's classes flows seamlessly from pose to pose. Susan encourages beginners to pause whenever they feel the need, as yoga should always feel good and never hurt. »
Click HERE to order from Amazon
After you have mastered Yoga for the Young at Heart (Basic Series 1), Susan has also produced Basic Series 2 and 3 to continue the journey toward achieving your own best level of strength and fitness.  See also: >>
Basic Series 2
>>
Basic Series 3